| White Coppice To Great Hill Walking Route | |
| --- | --- |
| Country: | England |
| County: | Lancashire |
| Postcode: | PR6 9DE |
| Length: | 1.6 miles (3.2 miles there & back) |
| Starting Point Co-ordinates | 53.66688856438748, -2.578025591326908 |
| Destination Co-ordinates | 53.667086335153826, -2.5374533513460062 |
| Approximate Duration: | 1 Hour (2 hours there & back) |
| Terrain Difficulty: | Easy |
| Admission: | Free |
| Parking Neaby: | Car Park (free) |
| Dogs Allowed: | Yes (on lead) |
Where Is White Coppice?
White Coppice is a quaint hamlet nestled in the borough of Chorley, Lancashire.
Where Is Great Hill?
Great Hill is situated between Chorley and Darwen on Anglezarke Moor.
How To Get To White Coppice
White Coppice is a 10 minute drive from the centre of Chorley. Go down B6229 onto Heapey Rd and then Tithe Barn Lane before turning right onto Coppice Lane. Follow this lane down to the bottom and you'll enter White Coppice.
At the heart of White Coppice is the cricket club which provides parking. There's a small parking bay on the lane approaching the cricket club where you can also park. There's no charge to park anywhere around here but be mindful if you park outside of the designated spaces as there's many residents here who call White Coppice their home.
White Coppice To Great Hill Walking Route
If you start off at the White Coppice cricket club, follow the path around the cricket field that leads to a kissing gate. Continue through the gate and onwards over The Goit canal to the next kissing gate which will open up to a view of some hills.
Right in front of you to the right, you'll see the waterfall, however, for the White Coppice walking route to the Great Hill, take the left path instead. This path will lead you around and up the hill in front of you.
The path leading up the hill is quite rocky and uneven underfoot so a pair of good walking boots is recommended. The path is more rocks, stone and dirt than an actual path when ascending the first hill so take your time, especially in wet or frosty weather. The path eventually turns into a proper footpath later on the trail.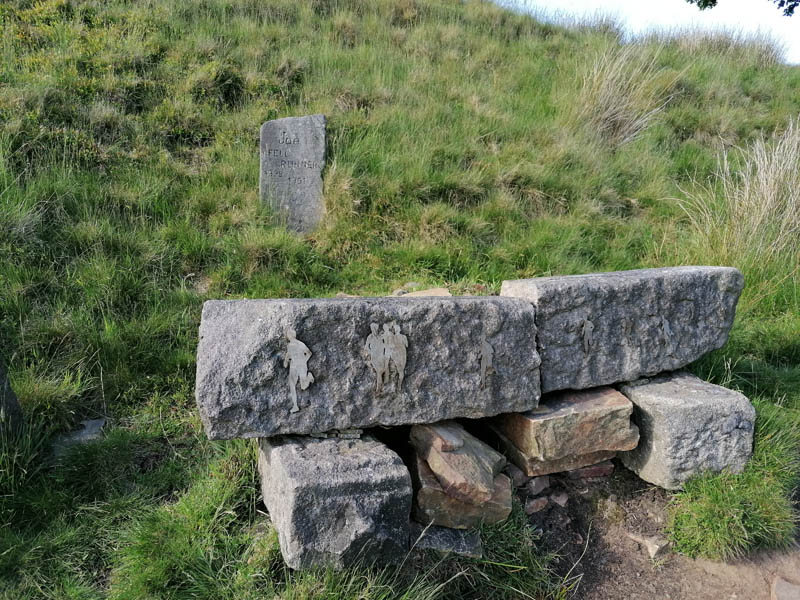 The incline of the hill is manageable for most people and levels out eventually when the path leads to an area called Joe's Cup, which honours a fell runner named Joe who died in 1991.
By turning right, just past the memorial stones, which are carved with Joe's birth and death date and flourished with the designs of runners, are the ruins of a former farmhouse known as Drinkwaters.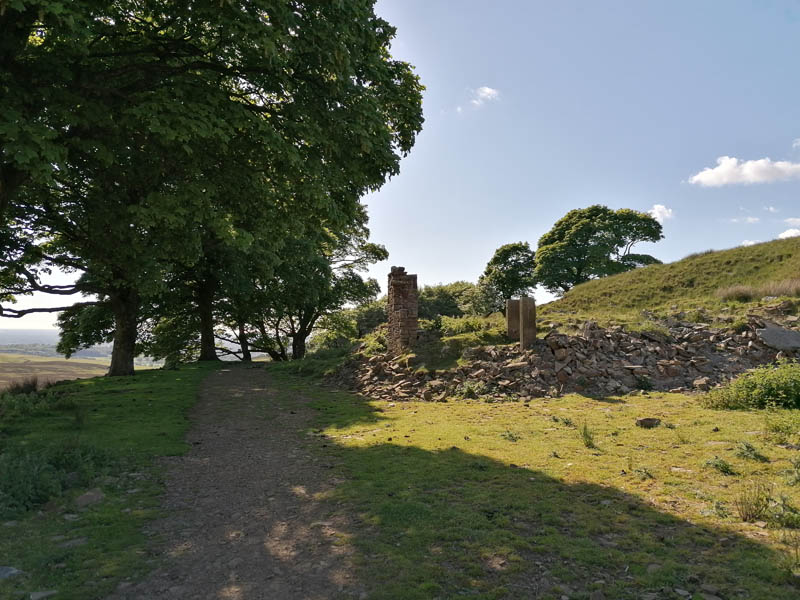 The ruins of Drinkwaters have been partially restored in recent times but unfortunately there's not much left to show of the once majestic farmhouse.
Continuing on the path past Drinkwaters, you will reach the Great Hill where you'll find the Great Hill summit rest area; a place where you can sit down for a rest on the benches provided. There's stone walls separating the seating area, forming a cross, so you can shield yourself from the elements a little.
Great Hill, at an elevation of 1250 ft, provides some incredible panoramic views from Anglezarke Moor of Winter Hill, Rivington Pike, Round Loaf and Darwen Tower. From here, you have the option of heading to any of these places should you decide to, or you can turn around and go back the way you came.
White Coppice To Great Hill is a pleasant hike, especially on a beautiful summer's day, and will easily clock 10, 000 steps onto your pedometer. Definitely a walk for someone who doesn't want to spend too much time on a hike or get too adventurous, but to do a hearty, cardiovascular bit of exercise.
Taking dogs up is permitted but there are sheep roaming as you're travelling through open farmland so please keep your dog on a lead at all times. Unfortunately there's been instances where dogs have savaged and killed sheep in this area due to inconsiderate owners. Respect the countryside.