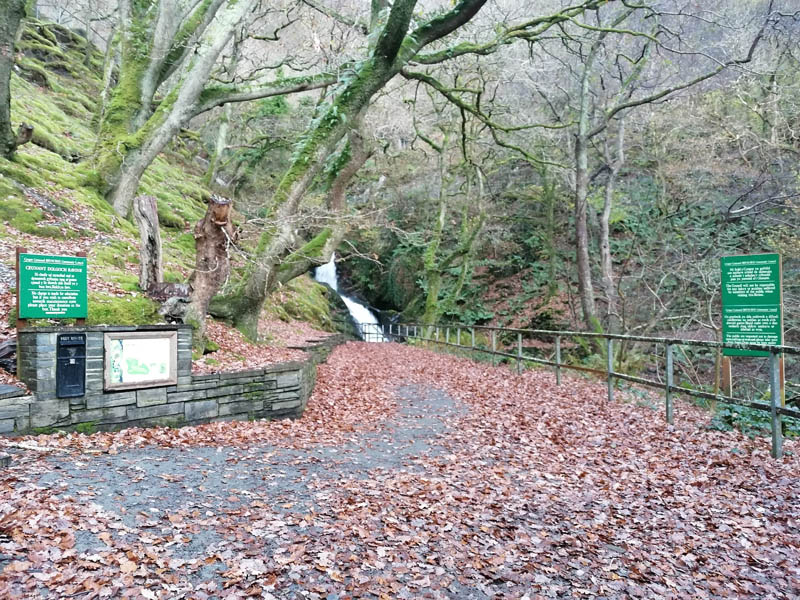 | About Dolgoch Falls | |
| --- | --- |
| Country: | Wales |
| County: | Gwynedd |
| Postcode: | LL36 9UW |
| Length: | 1.5 miles |
| Approximate Duration: | 1 Hour |
| Terrain Difficulty: | Moderate |
| Admission: | Free |
| Parking Neaby: | Car Park (reasonable fee) |
| Dogs Allowed: | Yes |
Where Is Dolgoch Falls?
How To Get To Dolgoch Falls
To access Dolgoch Falls is simple – it's just off the B4405, if you're heading West to Bryncrug or East to Abergynolwyn. Dolgoch Falls is signposted from the road making it easy to spot.
The site itself plays host to The Dolgoch guesthouse and tearooms and boasts a generously sized carpark, with pay and display ticket machine. The car park is clearly visible and accessible from the road, just as the B4405 road bends.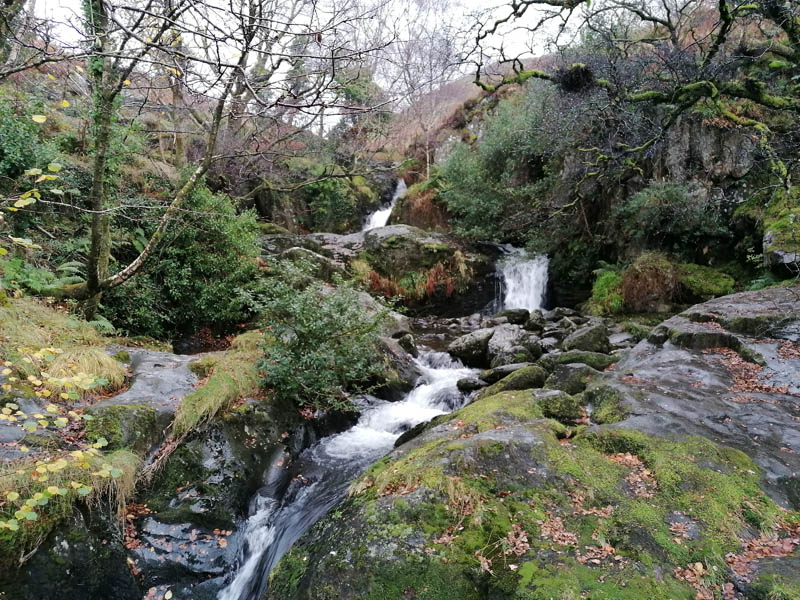 Visiting Dolgoch Falls
As a fan of visiting waterfalls, I found Dolgoch Falls to be one of the more gentler destinations but nevertheless impressive with its three waterfalls a natural beauty to behold.
Upon arriving at Dolgoch Falls, a wide pathway leads to the main majestic waterfall which is on the ground level. There's a path which you can take to get a better view of the waterfall from an elevated position which then continues to form a trail which eventually loops around to the lower level where you started. Next to the main waterfall there is a cave but it doesn't lead anywhere.
I've only ever been to Dolgoch Falls during the Winter months and it can be a bit slippery underfoot with wet leaves and slate not the best combination for hiking. However, the views as you climb higher and navigate the path are breathtaking, like something out of a fairytale. Perhaps this is why Robert Plant and Jimmy Page of Led Zeppelin decided to do an acoustic recording of No Quarter at Dolgoch Falls.
The hiking trail at Dolgoch Falls is around 1.5 miles in length. If you decide to walk the entire route all the way round, it gets considerably elevated with a walkway that narrows to single file but is manageable for most hikers. I'm scared of heights and managed it even though there were a few squeaky bum times but that was because I'd chosen a day that was rather wet and muddy which made it slippery. However, the rain had made the waterfalls that much more impressive!
Three quarters away around the route, or a quarter in depending on which direction you begin, there's a bit of a clearing where you can sit down at a picnic table and enjoy the scenery. The picturesque setting makes the perfect place to sit and take in the views whilst having a quick refreshment or rest.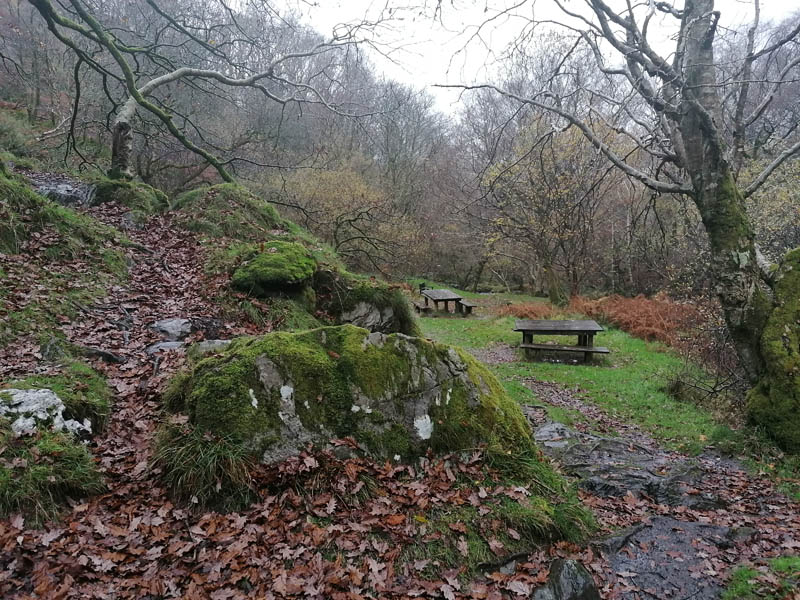 You're welcome to take your dogs with you on the hike around Dolgoch Falls as long as they're kept on the lead out of respect of others on the trail and to prevent any accidents as there's steep drops aplenty that can be hazardous. If you've got a dog that pulls, I'd possibly be wary about taking it up the narrow paths because of this, but if they're obedient pooches then you should be okay.
It's truly a magical place with many exciting flora and fauna flourishing throughout the trail, accentuated by the stream of water flowing and cascading down the rockface.
The complete walk takes around 50 minutes to an hour, depending on your walking speed and the weather, and features three stunning waterfalls set in the beautiful Welsh hills. The path eventually brings you out at the main waterfall at the ground level, so whichever way you decide to go, you'll end up looping back round to the start as the path ascends and then descends.
Near the main waterfall, you may spot some old postbox fitted into the wall which accept donations if you wish to drop some loose change in to help keep the Falls maintained as there's no charge to actually enter and walk around the falls.
For an alternative walk that is more relaxed, or simply as the cherry on top to a brilliant scenic hike, there's a path that from Dolgoch Falls that leads to Dolgoch train station. As it was off-season when I visited, the train station was closed giving it an eerie, abandoned feel but I look forward to visiting again when the sun is shining and the steam train is running. I can say one thing though: the autumnal colours made the views that extra spectacular!